Teacher Training Courses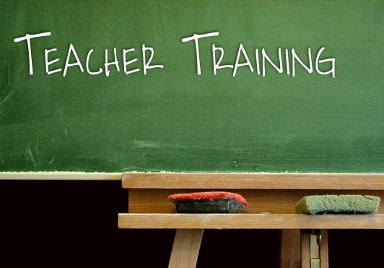 Why Choose IH Malta?
The International House World Organization (IHWO) is one of the largest and oldest groups of language schools in the world. It pioneered Teacher Training programmes for English as a Foreign Language (EFL) and its courses and centres remain some of the most sought-after in the industry.
Our highly experienced teacher trainers have put together a programme that will not only prepare you for the exam, but will also help you gain some practical knowledge and skills that you will need when entering the classroom in the role of a teacher.
Course list:
International House Award in Teaching English to Adults (IHA) *MQF level 5
Description
International House Award in Teaching English to Adults (MQF level 5) – recognised by the ELT Council and the National Commission for Further and Higher Education.
A 120-hour course with tutor input, teaching practice and written assignments, tutored by internationally recognised trainers
Intensive course beginning 1st May, 2017.
Your ticket to teaching English both in Malta and abroad!
For further information please contact us: training@ihmalta.com or fill in the form.
Who is it for?
Those with little prior experience of teaching
People that have done some teaching but have no formal qualifications
Teachers that have taught other subjects, but not a foreign language
Aims
An entry-level course that trains candidates to teach foreign languages to adult non-native speakers. Upon completing the qualification, participants will have reached a standard suitable for employment as a language teacher.
Content
The IHA focuses on the planning and execution of lessons through teaching practice, written assignments and group discussions, all of which are observed by experienced international tutors who provide helpful feedback and encourage continuous self-evaluation.
Areas covered include: lesson preparation and the selection of teaching materials, classroom management skills, student motivation, language awareness and identification of common learning problems.
Dates
Cost
€1280. A certificate from International House World Organisation will be issued on successful completion of the course.
*Minimum number of participants = 4
How to Apply
A written language awareness test is included in the application process for the IHA and will be discussed during a face-to-face or Skype interview.
Contact us: training@ihmalta.com or fill in the form.
IH Certificate in Teaching Young Learners & Teenagers (IHCYLT)
Who is it for?
Qualified teachers with no prior experience of teaching young learners
Qualified teachers who have already taught young learners but would like specific training
Aims
To prepare teachers for the specific challenges of working with young learners and teenagers, through face-to-face assessed teaching practice.
Content
20 sessions covering areas such as: Child Development, Clarifying and Practising Language, L1 in the classroom, Teaching Very Young Learners, Teaching Adolescents, Material Design and Selection.
Structure & Assessment
Two written assignments: one on teaching materials, plus a self-reflection task, assessed by a qualified tutor
Four teaching practice sessions with two different age groups, observed by a local tutor with YL experience in an IH school.
The course is taught by qualified, experienced YL English teachers and the final portfolio is moderated by the IH Assessment Unit. The grading of the course is Fail, Pass or Distinction.
Time Commitment
The course takes 3 intensive weeks of 20 hours/week and will require a minimum of 5 hours' planning/self-study per week, plus time for writing assignments.
Trainees are required to spend 6 hours observing peers and more experienced colleagues, and carry out a minimum of 3 hours of observed teaching practise, eg. 4 x 45 minute lessons.
Prices
€760. This price includes moderation by Cambridge English Language Assessment, in addition to the usual IHWO Assessment course moderation. This means that the certificate you receive if you pass the course will have the Cambridge English Language Assessment logo on it and the words 'Moderated by Cambridge English Language Assessment'.
Dates
Face to face from 3rd to 14th July, with the final portfolio to be submitted by July 21st 2017.

We also offer a range of 5-day Erasmus+ Teacher Training courses.
Other IH World Courses:
IH World offers a wide range of teacher training courses to suit all experience and knowledge levels.
IH Certificate in Teaching Very Young Learners
- prepares teachers for the specific challenges of working with very young learners (6 and below)
IH Certificate in Online Tutoring
- trains tutors in techniques and approaches to online tutoring for both student-oriented and teacher-oriented courses on Virtual Learning Environment. This course is a recognised qualification for trainers wishing to work on the online CELTA.
IH Certificate in Teaching Business English
- gives participants the necessary skills and knowledge to start teaching business English.
IH Teacher Training Certificate
- gives Course Participants (CPs) a basic grasp of the main issues and techniques involved in teacher training so they are better prepared to observe an initial teacher training course or assist on an in-service teacher development course.
- helps a more senior teacher develop in their in-house Teacher Development role.
IH Action Research Course
- equips teachers with a basic knowledge and understanding of how to conduct action research.
IH Certificate Advanced Methodology
- develops teachers' theoretical knowledge of teaching, practical teaching ability and self-analytical skills and raises teachers' awareness of what they can expect from a Diploma level course. This course is a useful stepping stone between CELTA and DELTA.
IH DELTA 1 Exam Technique Preparation
- ensures candidates are fully prepared in advance of their DELTA 1 exam, by reviewing key areas of the exam.
IH Director of Studies Course
- gives an overview of what can be expected in a DOS's job and the variety of tasks and responsibilities involved.
For course start dates, prices, and further information, please contact dos@ihmalta.com. We would be happy to arrange a Skype chat to guide you on which course would be right for your CPD needs.
TELT
What is TELT
TELT, or the
Test for English Language Teaching
is a national, publicly offered examination, which is one of the requirements for obtaining an EFL teaching permit in Malta. The examination is designed to assess the following areas:
language description, sensitivity and awareness;
language proficiency,
speaking.
These comprise the three parts of the exam. The third part, SPEAKING, will only be taken by candidate successful in the first two parts of the examination (obtaining a score of at least 65% in each) and is held on a different date.
Examination dates year 2017
| | |
| --- | --- |
| Written part | Saturday 4th March |
| | Saturday 20th May |
| Speaking | Saturday 11th November |
Course Info
At IH Malta we offer two types of TELT preparation courses: an intensive and an extensive one. Both courses focus mainly on the first two parts of the examination, helping the candidates to gain both a better awareness of language, as well as some practical skills, involving sentence formation, error correction, and writing.
| Type of course | Dates 2016 | Intensity |
| --- | --- | --- |
| Extensive | 16th February to 10th March | Tuesdays & Thursdays from 5.30–8.30pm |
| Intensive | 29th February to 10th March | Monday to Thursday from 5.30 – 8.30pm |
Both courses involve and interactive face-to-face component, as well as independent work modules, and are tailor-made to meet the needs of each candidate, helping them prepare to the examination in the best way possible.
Each course is the total of 24 contact hours (8 x 3-hour sessions). You can choose to study either intensively right before the exam or extensively to give you more time to prepare.
Minimum course participants = 5
Each course has a duration of 24 hours
Methods of payment: cash, cheque, credit card, bank transfer.
For course start dates, prices, and further information, please contact dos@ihmalta.com (or fill in the form below). We would be happy to arrange a Skype chat to guide you on which course would be right for your CPD needs.
IH LAC (IH Language Awareness Course)
What does the course cover?
How is the course assessed?
How to apply. Minimum requirements:
•
•
•
•
•
Forms with have (perfect aspect)
Forms with be I (progressive aspect)
Forms with be II (passive voice)
For course start dates, prices, and further information, please contact dos@ihmalta.com. We would be happy to arrange a Skype chat to guide you on which course would be right for your CPD needs.
Our Tutors
Lisa Phillips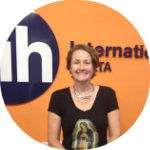 is a drama and Literature graduate from the University of Southern Queensland and has been working in the English Language Teaching field for 20 years. From classroom origins as a teacher in Australia, Japan, South Korea, Hungary, Japan, Uruguay and Argentina, she now spends her time as a Director of Studies, CELTA tutor and teacher trainer on the International House Online Teacher Training Institute where she tutors the International House Certificate (IHC), Director of Studies course and the Certificate in Advanced Methodology amongst others.
Kate Kazanovska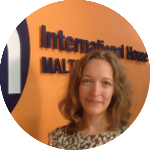 is a Humanities graduate, specialising in English Philology and Linguistics from the University of Latvia. She started off as a general English teacher in IH Riga, then going into Admin, school management, and teacher training. Currently a trainer of a number of IH courses (IHCYL, etc.) CELTA tutor and an independent training course creator for the Riga City Council Education Centre, focussing on teachers education and SEN, she has joined the IH Malta team to assist the current DOS Lisa Phillips in the development of the school.
Kate has presented in a number of conferences, focusing, in her research, on creativity in language learning, effective writing strategies, learning styles and special education needs, and teaching literacy to young learners. She has also collaborated with other tutors developing specific language courses, among which there is a CLIL course for pre-schoolers and a creative writing course for advanced learners of English.