Young Learners English summer programme in Malta
GENERAL INFORMATION

For additional information please also check our dedicated promo page.
General info
YOUNG LEARNERS want their language learning holiday to be FUN, and that is exactly what you can expect from INTERNATIONAL HOUSE YOUNG LEARNERS summer course in Paradise Bay.
We offer a full residential programme (activities, lessons, accommodation and supervision) or you can just purchase the course (lessons only). Our YOUNG LEARNERS centre offers a variety of activities and facilities in a great location and you will for sure have an unforgettable learning experience. We run two completely separate programmes, one for Juniors (8 – 12 yrs) and another one for Teens (13 – 17 yrs).
Additional benefits…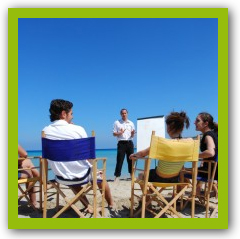 Teachers with INTERNATIONAL HOUSE recognised qualifications
Accommodation and lessons for Juniors (8-12 yrs) separate from Teens (13-17 yrs)
Personal attention for all students
2 completely separate leisure programmes; one for Juniors and another for Teens
All bedrooms have direct dial telephone (incoming calls only) and en-suite bathroom with shower
All bedrooms are fully air-conditioned and have a balcony with sea view
Competitively priced internet access point
24/7 representative assisted airport transfers
Why choose us…
Two separate fully residential programmes for Juniors and Teens
Centre located in the north of the island (25 mins drive from St. Julian's) and 100m from the sea
24 hour supervision ensures a safe and secure environment
A young and experienced teaching team with internationally recognised qualifications
Leisure programme offering 2 activities daily (Monday – Sunday)
Other Facts…
The programme runs from the beginning of June until the end of August
Besides our students, Paradise Bay Resort Hotel hosts other guests, mostly families
2 mins walk to Cirkewwa ferry terminal with regular ferry departures to Gozo
10 mins walk to Paradise Bay sandy beach
Mellieha Bay and Armier Bay are a 5 minute drive away
Parents can accompany their children by booking a course or accommodation only at Paradise Bay Resort Hotel
2 mins walk to Cirkewwa bus terminus with buses departing regularly
Students are only allowed to leave campus if accompanied by a responsible adult
Lessons and activities are compulsory
Courses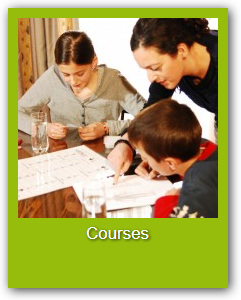 Experienced and qualified teachers use a communicative approach to help our students discover the language, internalise it, and make it their own through project work, critical thinking tasks, dynamic activities, as well as fun and engaging study materials.

A certificate of attendance is awarded at the end of the course.

The teaching programme is based on projects, activities, tasks and topics designed to give students confidence and develop the four main language skills in English

Lessons take place at the hotel, in 4 spacious and airy classrooms equipped with boards, tables, chairs as well as lecture chairs

A spacious air-conditioned assembly hall is also used for learning and social activities (e.g. testing, assemblies, ice-breaking games and other on-site activities)

A variety of levels from A2 to C1 according to CEF are offered to the students of our school.

Students are tested and placed in the class which is best suited to their age and their level of English

Classes are multinational so the camp provides an ideal environment to practise English at all times

Operates every summer from mid-June till the end of August (Saturday 09.06.2018 – Sunday 19.08.2018).
See the prices
PACKAGE INCLUDES
FULL BOARD at Paradise Bay Resort with buffet breakfast & dinner, and a choice between a packed lunch or buffet lunch

20 lessons/15hrs General English Language in group (45 minutes each lesson) per week

Full week leisure programme (2 activities each day, 14 activities per week)

Airport transfer to hotel/return 24/7

Complimentary accommodation, activities & transfers for 1 accompanying group leader per 12 students

24/7 campus supervision

Course certificate

Travel insurance
See the SAMPLE PROGRAMMES
ACCOMMODATION

Centre and facilities
Paradise Bay Resort Hotel, Malta
Paradise Bay Resort Hotel is spacious, comfortable, and popular with families. It is beautifully situated overlooking the picturesque sister islands of Gozo and Comino surrounded by the clear waters of the Mediterranean making it an ideal holiday venue for guests of all ages. The hotel offers practical, well-furnished and comfortable accommodation in a pleasant and friendly atmosphere.
The hotel also offers 276 guest bedrooms with a sea view and balconies and some with the southerly facing bay view. The hotel offers a variety of facilities, several dining areas, and Wi-Fi (free in the common areas).
Facilities available
There is a tennis court, three outdoor pools with extensive terraces and sun-loungers, a large indoor pool, a children's playground with safety flooring, a games, the hotel's own beach, and a gift shop, offering an extensive variety of souvenires, beach toys, local craftswork, postcards, newspapers, sunscreens, sweets, chocolate, snacks, and ice cream.
Rooms
Rooms located in the south wing of the complex
Rooms are economy rooms
Fully air-conditioned
Ensuite bathroom with shower fitting over the bath
Balcony with sea view
Max. of 3 to 4 students per room
Telephone (incoming calls only)
Activities
Two programmes run consecutively for the two different age groups with two activities per day (Juniors 8 – 12 years and Teens 13 – 17 years). The majority of the activities are compulsory, whilst some of the on-site activities are optional. Students can choose to join the optional activities or have free time on the premises. CLICK HERE TO DOWNLOAD the Sample Programmes:
Videos
Photo gallery
MAP
Map of Young Learners Centre, Paradise Bay, Malta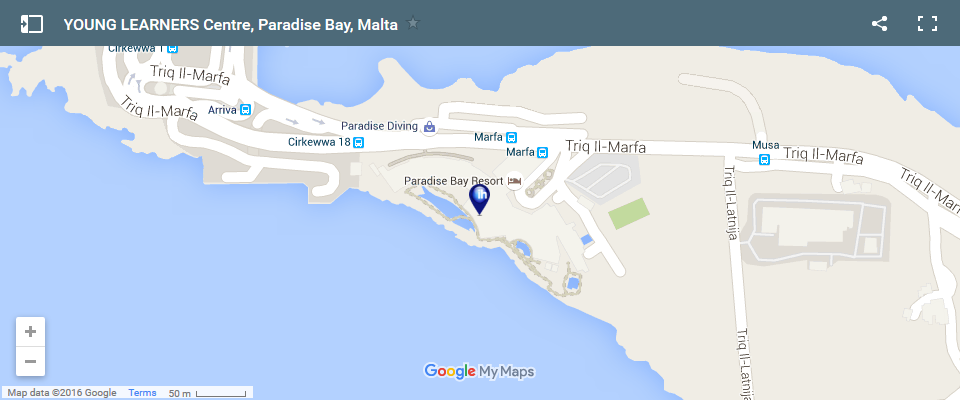 TESTIMONIALS
What students say
Students' Blogs
• Armands S. | 14 years | Latvian | Advanced
Hi everyone! My name is Armands and now I will tell you what I like or dislike in Malta.
I was in Malta last year. I came back because last year I had fun here. I met a lot of new friends and came closer to Malta's history. I really enjoyed it last year and I wanted to come here again.
This year I met staff from the last year (Gabriel and Steve).
When Saoirse saw me this year she said: "I remember you from the last year!"
I asked "OK, so what's my name?"
She answered: "Armands".
This year the trips to places in Malta are more interesting and they are better than last year. Maybe because last year I was a Junior and this year I'm a Teen. But I think that this is because last year the first week activities were the same as the third week's trips.
One thing that I dislike this year is that from last year I was funnier and better than from this year.
Last year nearly every staff said: "Come here next year, we will be here again" but only Gabriel, Saoirse and Steve kept their promises.
I enjoy Malta and don't want to go home.
• Elizaveta D. | 14 years | Russian | Advanced
When I arrived to Malta, I knew that the holiday will be great. After some days I started to enjoy Malta, because there were a lot of nice students and staff. There were also a lot of foreign students!
First, I would like to say that I have the best roommates ever! Their names are Nika (Veronika) and Nastya (Anastasia). They are the best and I love them. I have known Nastya for only two weeks, but I already call her my friend. If I was alone in my room, it would have been boring. Also, I have got some foreign friends; their names are Olivier, Filip and Anton (Polish & Swedish). They are funny too. Most of the time we are together: me, Nika, Nastya, Anton, Filip and Olivier. Because of them I don't miss my home at all!
Also, I have got a wonderful teacher, her name is Rodiann. She is very friendly! Our lessons are very interesting because of her. We do a lot of exercises, interesting games and conversations about crazy topics. Two weeks have passed and it's like only two days! It's incredible! I hope that my parents will send me to Malta again next year.
• Alexander V. | 14 years | Russian | Advanced
This is my second time in Malta. I decided to come here again in the same hotel because I like this hotel and knew everything about it. Another reason is because I thought that my friends who were here last year would be here again. So it has happened! Of course not all of my friends are here again, only three, but they remembered me and were glad to see me here again.
The staff and some teachers remembered me and said: "Welcome back!". I was glad to see them too. They also were asking me questions about me. For example: "How are you?"
I wanted to come to Malta for the second time because it has a lot of beautiful views and cities mostly, Malta`s capital city, Valletta. There are a lot of beautiful historical houses, places, and also there are a great number of shops where you can buy everything you want. There are also good activities in the programme. Sometimes you don`t know what to do in your free time. These activities can help you to become more healthy and stronger. Also these activities help you to find new friends and to get to know other students.
There are good english teachers. They help you to learn new words, to study, to understand and to pronounce english words correctly. Since last year the hotel has changed: there are new teachers, new activities, and new staff members. This year the rooms have new furniture. I like this hotel and maybe, I`ll come here for the third time.
• Anastasia S. | 15 years | Russian | Advanced
Two weeks ago I came to Malta to study English.
It took 4 hours to get to Malta from Russia. Soon I made friends. They are very friendly and always support me when I need their help. The school has a very interesting daily programme. I really enjoy it because every day I can find something interesting for me to do with my friends. We have a lot of activities: excursions, parties, shopping, swimming and boat trips.
We also have lessons. I find lessons interesting for me because I can develop my knowledge in different ways not only in studying English.
Unfortunately, in one week I will go back to Russia I will miss this place.
• Alexander L. | 13 years | Russian | Advanced
I arrived to Malta on 24th June 2017 with my friends. On the first day we met some new friends. We all stay together in one room. In the first day we went to the club, it was fun. But I was really tired because we stayed up really late.
• Simona K. | 15 years | Bulgarian | Advanced
Hi, I'm Simona and I am from Bulgaria. I arrived in Malta on Sunday. This is my first time at the school and I didn't have friends here. I was really stressed out and nervous because everyone knew each other and I didn't know what to do. But on Monday we went to Popeye Village. This place is originally created for Disney's film but after they made the movie they abandoned the place. Now the village is open for tourists. The staff helped us to create our own film. It was very funny and helped me to make new friends and feel a lot more comfortable.
At the end of the day we went on a boat party. It was a great experience. I was dancing and chatting and had a lot of fun. Now I love the time I spend here in Malta.
PRICES 2018
Paradise Bay Centre, Malta (8 - 16 yrs)
ALL INCLUSIVE RESIDENTIAL PACKAGE 2018
Notice
: Use of undefined constant SITE_PATH_EN - assumed 'SITE_PATH_EN' in
/home/i/ihmalta/ihmalta.com/public_html/multilingual/translations/page-young-learners-landing.html
on line
641
Notice
: Use of undefined constant SITE_PATH_EN - assumed 'SITE_PATH_EN' in
/home/i/ihmalta/ihmalta.com/public_html/multilingual/translations/page-young-learners-landing.html
on line
642
Notice
: Use of undefined constant SITE_PATH_EN - assumed 'SITE_PATH_EN' in
/home/i/ihmalta/ihmalta.com/public_html/multilingual/translations/page-young-learners-landing.html
on line
643
Notice
: Undefined variable: surrent_year in
/home/i/ihmalta/ihmalta.com/public_html/multilingual/translations/page-young-learners-landing.html
on line
653
Notice
: Undefined variable: surrent_year in
/home/i/ihmalta/ihmalta.com/public_html/multilingual/translations/page-young-learners-landing.html
on line
654
Number of lessons per week
Security

Accommodation
No. of swimming pools
Distance from the beach
Meal included
Leisure
CELTA qualified Teachers
Courses based on Cambridge exam materials
Training for group leaders
Transfer
Insurance
Premium
Programme
20
24/7 supervision
4* hotel room,
air conditioned
Maximum 4 students/room
4
2 minutes
Full Board
At least 2 activities daily
Group
Airport → School → Airport
Exclusive
Programme
20
24/7 supervision
4* hotel room,
air conditioned
Maximum 4 students/room
4
2 minutes
Full Board
At least 2 activities daily
1:1
Airport → School → Airport


*Prices are given on a per student per day basis
• Programme operates from Saturday 09.06.2018 till Sunday 19.08.2018 • Minimum booking of 7 nights • Free WiFi in International Students' Hall • Course Resource fee & registration fee apply • Complimentary group leader for every 10 students travelling together.
Prices for parents and guardians (June - August). Paradise Bay Hotel 4-star
Price in Euros (€) per person per night on BB basis
Code
Room type
01.11 - 22.12
23.12 - 01.01
02.01 - 31.03
01.04 - 30.04
01.05 - 31.05
01.06 - 30.06
01.07 - 31.08
01.09 - 30.09
01.10 - 31.10
PBH
Standard

Single

Room
€21
€60
€21
€44
€62
€68
€95
€95
€62
*Subject to Availability
*Bookings can also be made on half board and all-inclusive basis
*Check-in: 15:00 / Check-out: 11:00
Compulsory Fees
| Type of Fees | Price |
| --- | --- |
| Administrative fee | €75 |
* One-time fee
Travel Insurance
| Duration | Price |
| --- | --- |
| Up to 3 weeks | €20 |
| Each additional week above 3 weeks | €7 |
Minimum booking of 7 nights
Free WiFi in International Students' Hall
Accommodation on full board basis
General English Course in Group 20 lessons per week
2 leisure activities per day Mon-Sun
2 airport transfers
24/7 supervisors
Travel insurance
Package details can be viewed on page 4 of IH brochure 2017.pdf
If you have any questions about
English Summer School in Malta, feel free to contact us:
(+356) 2138 4139, (+356) 2137 0597
info@ihmalta.com
or send us a message.