Our Centers
Young Learners Centre,
Paradise Bay, Malta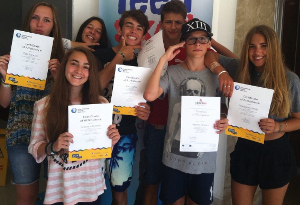 At International House Malta we like to see our students happy, safe, well-fed, and making good progress in English. That is why we offer a fully residential programme at the Paradise Bay Resort, which is conveniently located in the north of the island and just 100 metres from the sea. It has two tennis courts, three outdoor swimming pools, an indoor pool, a volleyball court, a private sandy beach, terraces, a diving school and sun decks – everything you need to have a fun and enjoyable holiday.
While the hotel itself has a lot to offer, including delicious meals served three times a day, our campus supervisors and teachers do their best to make the students' stay as much fun and memorable as possible. Lessons take place in light air-conditioned classrooms and are taught by a team of young professional teachers who specialise in teaching Young Learners.
The centre is supervised 24/7 by our own trained campus and activity staff, who know every child's name, location, and specific needs. They make sure that the children are safe and that nobody leaves the premises unaccompanied, or enters the centre without an authorisation.
The residence package includes accommodation, general English lessons (20 per week) and a full week leisure activity programme.
IH Malta - Swieqi Centre,
St. Julian's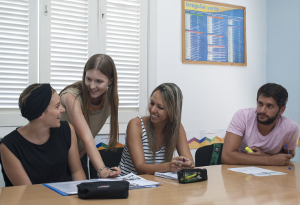 Our main school is situated in Swieqi, a suburb of St Julian's, Malta's main tourist hub. It is within a short walking distance to all amenities including a sandy beach, a multi-screen cinema complex, a shopping centre, a bowling alley and, literally, hundreds of restaurants that cater for all tastes and pockets.
Accommodation comes in many forms: from our very own popular student residence Villa Belview, to more select small apartments and host families right up to hotels of all categories.
The school itself is set in a charming villa which exudes a sense of family atmosphere. The premises are fully air-conditioned and all classrooms are bright and airy. Both the academic team and the administration team on site are available at all times and offer expert advice both in terms of academic requirements and personal goals as well as how to get the most from their stay on the island.
Excursions and activities are offered on a daily basis whilst the students can make the most of the extensive self-study resources available at the same time as enjoying the lovely garden and roof terrace during break times and after lessons.
IH Malta - Msida Centre
Our second school – due to open in February 2020 - is situated in the university town of Msida. It is actually a stone's throw away from Malta's main university campus and is strategically situated and on the main bus routes which make both Valletta, Malta's capital city, and Sliema, Malta's main shopping district, less than fifteen minutes away.
As with our main school accommodation comes in all forms from a student residence to apartments, host families and hotels. Being a university town, the area offers an extensive array of eating places in view of the high student numbers and it all comes at very reasonable prices.
The school is situated in front of a lovely public garden and enjoys direct sunshine at all hours. The classrooms are all very spacious and the sense of a family atmosphere is prevalent here as well. The same as for the Swieqi Centre the academic and administration teams on site offer expert advice on anything that students may require to make their stay as meaningful and pleasurable as possible.
Excursions and activities are also offered on a daily basis and extensive self-study resources are available with students having at their disposal a lovely lounge, garden and roof terrace.