Young Learners Centre,
Paradise Bay, Malta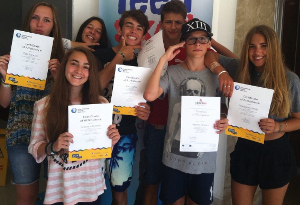 At International House Malta we like to see our students happy, safe, well-fed, and making good progress in English. That is why we offer a fully residential programme at the Paradise Bay Resort, which is conveniently located in the north of the island and just 100 metres from the sea. It has two tennis courts, three outdoor swimming pools, an indoor pool, a volleyball court, a private sandy beach, terraces, a diving school and sun decks – everything you need to have a fun and enjoyable holiday.
While the hotel itself has a lot to offer, including delicious meals served three times a day, our campus supervisors and teachers do their best to make the students' stay as much fun and memorable as possible. Lessons take place in light air-conditioned classrooms and are taught by a team of young professional teachers who specialise in teaching Young Learners.
The centre is supervised 24/7 by our own trained campus and activity staff, who know every child's name, location, and specific needs. They make sure that the children are safe and that nobody leaves the premises unaccompanied, or enters the centre without an authorisation.
The residence package includes accommodation, general English lessons (20 per week) and a full week leisure activity programme.