Special offers, Hot Deals
Summer holidays with International House Malta. From
€700
Offer is valid for courses from 1st June till 15th August 2018

General English Course (20 lessons per week)
2 weeks*
4 weeks
Quad
Triple
Twin
Quad
Triple
Twin
€700
€750
€800
€1400
€1550
€1700
Intensive English Course (30 lessons per week)
2 weeks*
4 weeks
Quad
Triple
Twin
Quad
Triple
Twin
€850
€900
€950
€1700
€1900
€2000
* – One week also available on request.
What's included:
20 or 30 English lessons per week in a group (1 lesson = 45 min)
Course materials
Placement test
Conversation Club once a week
Voucher for a 30-minute one-to-one tutorial with a teacher
Course Certificate
Administrative fee
Free Wi-Fi in school and residence
Accommodation at Belview Residence (self-catering)
Transfer from/to Airport
Half-day Excursions to Valletta, Mdina and 3 cities
Not Included:
Terms and Conditions:
Offer is valid for courses from 1st June till 15th August 2018
Room type is subject to availability at the time of the booking
Classes held from Monday to Friday
Age 18+
Offer cannot be combined with any other offers
The offer is valid for orders placed via our website only.
Cultural English Package for Mature Students
Start dates: 16/04/2018, 21/05/2018, 10/09/2018, 15/10/2018, 12/11/2018. Duration: 2 weeks
IH Malta is offering you a chance to learn English together with other students of a similar age.
Lessons will take place in a small friendly closed group and will focus on everyday English for social and travel purposes.
Some of the topics covered will be: asking for information and directions, making travel arrangements, booking hotels and ordering taxis, making reservations for dining out, ordering meals and making payments, etc. Students with a high level of English have the option to join a General English course.
Price: €645
Included in the package:
20 lessons per week in a closed group
Course materials
Return airport transfers
Certificate of Attendance
Activities programme with transport and services of a professional guide or school representative included
Terms & Conditions
A deposit of €100 secures each booking - balance to be received one month prior to arrival
Special Offer on accommodation at our student residence Villa Belview: 25% discount on brochure price
Other accommodation arrangements available on request
Extra activities can be booked at school
Students can extend their stay and join General English class according to language level.
You can also download the PDF flyer
Activities programme:
Half Day Tours
Night Tours
Discover Malta By Night
(download)
Wine Tasting
(download)
Full Day Tour
Gozo Scenic Tour
(download)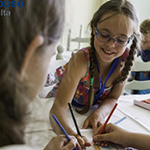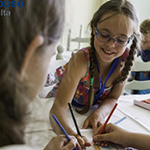 Family Package for Very Young Learners (3 to 8 year olds) 2018
Course dates between 09.06.18 and 19.08.18
This Family Package is a great opportunity for parents with young children to combine English language learning with a nice holiday. Enjoy sea, sun and English lessons at our summer school at the Paradise Bay Resort Hotel (4*).
Tuition prices: all prices in Euro (€)
Tuition per person (child or adult) per lesson*
In a group (3-6 persons of the same level)**
2:1
1:1
€15
€30
€55
* 1 lesson = 45 minutes; two lessons per day
** If a group is less than 3 – additional fees or reduced hours may apply
Accommodation prices: all prices in Euro (€)
(accommodation on HB basis per family per day)
Adults / Kids
Adult(s) only
1 child
2 children
1 adult

June




July/Aug.

€105




€132

€172




€214

€193




€234

2 adults

June




July/Aug.

€172




€214

€193




€234

€246




€298

3 adults

June




July/Aug.

€238




€294

€259




€315

–




–

4 adults

June




July/Aug.

€305




€375

–




–

–




–
Additional supplements:
Upgrade Half-Board to All Inclusive: €40 per person.
One time administrative fee: €75 per person.
Airport – Hotel transfer: €40 per family (maximum 4 people)
Airport – Hotel – Airport: €70 per family.
Conditions:
Course dates between 09.06.18 and 19.08.18.
Courses run from Monday to Friday. Weekends on request only
Minimum stay is 4 nights.
Lessons for parents and their children will run at the same time, however, times need to be flexible.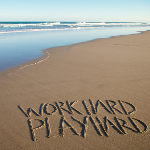 More work and play! (Lite English Course in Group)
We are introducing a new English language course aimed at people who wish to:
brush up their English;
leave enough time to enjoy what Malta has to offer;
meet new people from all other parts of the world at the same time.
«GE10», One and a half hours of General English tuition in group; two lessons of 45 minutes' duration each in the morning starting at at 9 a.m.,11 a.m. or in the afternoon at 1 p.m.* Every day from Monday to Friday €100 a week.
A special one-time administrative fee of €37.5 irrespective of the number of hours booked.
Stay for two weeks and combine your course with a stay at our student residence, Villa Belview and enjoy a half-day guided cultural visit to Valletta for free.
* – subject to availability.

Erasmus+
Sign up for our newsletter...
...and stay tuned for more information about special offers from IH Malta:
Our page on Vk.com (in Russian only): vk.com/ihmaltagozo

Our page on Facebook: facebook.com/IHMalta