Activities in Malta for our students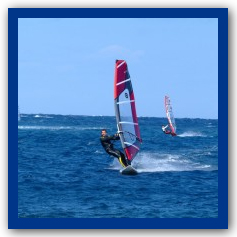 The Maltese Islands have been described as one big open-air museum. What makes them unique is that so much of their past is visible today. Delve into the Islands' mysterious prehistory, retrace the footsteps of St Paul or see where the Knights of St John defended Christendom. But Malta is no regular museum. Here, life is lived to the full, so make time for some living history as well as action. Visit locations where Oscar-winning blockbusters were made (Gladiator, Da Vinci Code, Munich) or go off the beaten track into ancient villages. Marvel at the fireworks and revelry of the summertime festas and enjoy a packed calendar of events all year round.
Malta is holidaying as the mood takes you. And with year-round sun, you can indulge in outdoor living at its best. In just 48 hours and within a kilometre or two, you can try a new sport, laze on an island cruise or tour the most important historic sites… and still have time to join in the nightlife. That's the real advantage of a stay here! CLICK BELOW TO DOWNLOAD the flyers.
3 Cities and Temple tour (download)
Boat Party
(download)
Church tour
(download)
Comino "Blue Lagoon" by Powerboat (download)
Countryside walk
(download)
Discover the Maltese Island tour (download)
Diving in the Mediterranean Sea (download)
Fernades Gozo & Comino (May – September) (download)
Fishing villages tour
(download)
Food meets Tradition Tour (download)
Gardens Tour
(download)
Good Friday Procession (download)
Gozo Scenic Tour
(download)
Grand Harbour Cruise
(download)
Highlights of Malta tour
(download)
Horse Riding in the Countryside (download)
Maltese Ftira Baking and Lunch (download)
Mellieha Bay Sandy Beach
(download)
Night Hike
(download)
North of Malta tour
(download)
Olive Oil Tasting at a Maltese Farm (download)
Round Malta (June – August)
(download)
Sunday Special
(download)
Trekking in Malta
(download)
Valletta Ghost Tour
(download)
Walk and taste Gozo tour (download)
Wine Tasting
(download)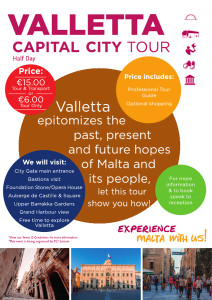 Valletta Capital City Tour (download) – The Fortress City, "a city built by gentlemen for gentlemen". Valletta has many titles, all recalling its rich historical past. It is the "modern city" built by the Knights of St. John, a masterpiece of the baroque; a European Art City; and a UNESCO WORLD HERITAGE CITY. Nowhere in Malta is the life of the islands reflected more than here.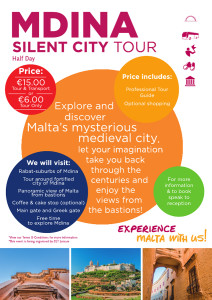 Mdina Silent City Tour (download) – The history of Mdina and its suburb Rabat is as old and as chequered as the history of Malta itself. Mdina, Malta's medieval Capital, can trace its origins back more than 400 years. Both Mdina and Rabat are fascinating to tour for their timeless atmosphere and their cultural and religious treasures. Not to be missed!!!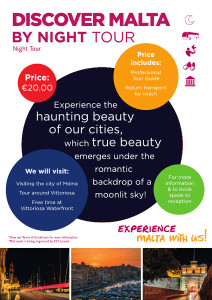 Discover Malta By Night (download) – Experience the beauty of our capital city and Grand Harbour during the moonlit hours and enjoy the magic of the floodlit bastions and waterfront!