Young Learners Teacher Training Weekend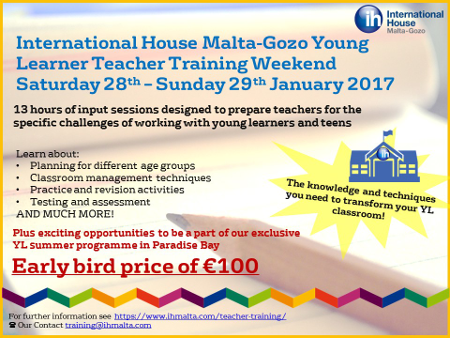 International House Malta-Gozo will be holding an exclusive training weekend for teachers of Young Learners on Saturday and Sunday, 28th to 29th January 2017. This is an ideal opportunity to learn new techniques and activities, be inspired and meet other ELT professionals who teach young learners in the primary, secondary or private language school spheres.
The 2-day training itinerary is as follows:
| | Saturday | Sunday |
| --- | --- | --- |
| 9:00 - 9:30 | GTKY activities | Recycling activities |
| 9:30 - 11:00 | Introductory session | Clarifying new language & checking understanding |
| 11:00 - 11:15 | COFFEE BREAK | COFFEE BREAK |
| 11:15 - 12:45 | Planning for YLs | Accuracy and correction techniques |
| 12:45 - 13:45 | LUNCH | LUNCH |
| 13:45 - 15:15 | Classroom management and instructions | Progress and Assessment |
| 15:15 - 15:30 | COFFEE BREAK | COFFEE BREAK |
| 15:15 - 15:30 | COFFEE BREAK | COFFEE BREAK |
| 15:30- 17:00 | IH YL programme | Games in the YL classroom |
| 19:30 | Optional dinner– place and price to be confirmed closer to the date | |
Cost
The cost of the event is €100. For further information about the IHCYLT course and the trainers, please feel free to contact us with any questions you may have.
Dates
Young Learners teacher training weekend - January 28th and 29th 2017.
IH Certificate in Teaching Young Learners & Teenagers (IHCYLT)
Who is it for?
Qualified teachers with no prior experience of teaching young learners
Qualified teachers who have already taught young learners but would like specific training
Aims
To prepare teachers for the specific challenges of working with young learners and teenagers, through face-to-face assessed teaching practice.
Content
20 sessions covering areas such as: Child Development, Clarifying and Practising Language, L1 in the classroom, Teaching Very Young Learners, Teaching Adolescents, Material Design and Selection.
Structure & Assessment
Two written assignments: one on teaching materials, plus a self-reflection task, assessed by a qualified tutor
Four teaching practice sessions with two different age groups, observed by a local tutor with YL experience in an IH school.
The course is taught by qualified, experienced YL English teachers and the final portfolio is moderated by the IH Assessment Unit. The grading of the course is Fail, Pass or Distinction.
Time Commitment
The course takes 3 intensive weeks of 20 hours/week and will require a minimum of 5 hours' planning/self-study per week, plus time for writing assignments.
Trainees are required to spend 6 hours observing peers and more experienced colleagues, and carry out a minimum of 3 hours of observed teaching practise, eg. 4 x 45 minute lessons.
Prices
€760. This price includes moderation by Cambridge English Language Assessment, in addition to the usual IHWO Assessment course moderation. This means that the certificate you receive if you pass the course will have the Cambridge English Language Assessment logo on it and the words 'Moderated by Cambridge English Language Assessment'.
Dates
Face to face from 3rd to 14th July, with the final portfolio to be submitted by July 21st 2017.
International House Award in Teaching English to Adults (IHA) *MQF level 5
International House Award in Teaching English to Adults (MQF level 5) – recognised by the ELT Council and the National Commission for Further and Higher Education.
A 120-hour course with tutor input, teaching practice and written assignments, tutored by internationally recognised trainers
Extensive course on Friday nights and Saturday mornings from October 2016 to February 2017
Your ticket to teaching English both in Malta and abroad!
For further information please contact us: training@ihmalta.com or fill in the form.
Who is it for?
Those with little prior experience of teaching
People that have done some teaching but have no formal qualifications
Teachers that have taught other subjects, but not a foreign language
Aims
An entry-level course that trains candidates to teach foreign languages to adult non-native speakers. Upon completing the qualification, participants will have reached a standard suitable for employment as a language teacher.
Content
The IHA focuses on the planning and execution of lessons through teaching practice, written assignments and group discussions, all of which are observed by experienced international tutors who provide helpful feedback and encourage continuous self-evaluation.
Areas covered include: lesson preparation and the selection of teaching materials, classroom management skills, student motivation, language awareness and identification of common learning problems.
Dates
Young Learners teacher training weekend - January 28th and 29th
IHA Intensive - May 1st – 26th, 2017 (Monday to Friday from 8.30 – 5.00)
IHCYLT - Face to face from 3rd to 14th July, with the final portfolio to be submitted by July 21st 2017.
How to Apply
A written language awareness test is included in the application process for the IHA and will be discussed during a face-to-face or Skype interview. Contact us: training@ihmalta.com
Cost
€1280. A certificate from International House World Organisation will be issued on successful completion of the course.
*Minimum number of participants = 4
TELT
What is TELT?
TELT, or the
Test for English Language Teaching
is a national, publicly offered examination, which is one of the requirements for obtaining an EFL teaching permit in Malta. The examination is designed to assess the following areas:
language description, sensitivity and awareness;
language proficiency,
speaking.
These comprise the three parts of the exam. The third part, SPEAKING, will only be taken by candidate successful in the first two parts of the examination (obtaining a score of at least 65% in each) and is held on a different date.
Examination dates year 2017
| | |
| --- | --- |
| Written part | Saturday 4 March |
| | Saturday 20 May |
| | Saturday 11 November |
Why Choose IH Malta-Gozo?
The International House World Organisation (IHWO) is one of the largest and oldest groups of language schools in the world. It pioneered Teacher Training programmes for English as a Foreign Language (EFL) and its courses and centres remain some of the most sought-after in the industry.
Our highly experienced teacher trainers have put together a programme that will not only prepare you for the exam, but will also help you gain some practical knowledge and skills that you will need when entering the classroom in the role of a teacher.

We also offer a range of 5-day Erasmus+ Teacher Training courses.
Contact us
If you have any questions about
any Teacher Training course, feel free to contact us:
(+356) 2138 4139, (+356) 2137 0597
training@ihmalta.com
or send us a message.