Interactive Classes for Senior Students (50+)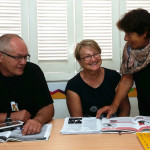 Learn English and have the best holiday of your life in a safe and comfortable environment!
Enjoy the mild winter and the beautiful spring of 'the pearl of the Mediterranean sea' as the Maltese call it – whenever you choose to come, you will not be disappointed: local culture, nature, food, the weather and people will make it an unforgettable experience.
IH Malta is offering you a chance to learn English together with other students of a similar age, helping you to boost your communication, reading, and writing skills and build your confidence when in an English-speaking country.
About the course
The package includes a light course load of 15 hours of tuition (20 lessons) and daily organised social events (bus tours of the island, a traditional Maltese dinner, etc.). This ensures a great balance of language lessons and sightseeing.
Our language lessons are tailor-made to meet the needs of each individual group of students. On the first day our academic staff will discuss the content of the course with you, making sure that it is relevant to your needs and interests. The materials we create are learner-friendly – the handouts that we offer our senior students have enlarged print and the IWBs that each class is equipped with will provide memorable visual support to language learning, and also ensure very good quality of the listening materials.
During the weekend you will be able to choose extra activities, building your own programme to suit your needs and interests. You can go on a bus tour, exploring the heart of Malta and learning about its rich history, travel around Gozo, or book a Comino cruise.
Accommodation
The 50+ packages below offer accommodation in our Belview residence and with host families. It is also possible to choose 3, 4, or 5* hotel options, in which case the package price will be calculated upon request depending on the type of hotel that you choose and the dates of your arrival. Read more about accommodation.
Why should every senior learn a foreign language?
Learning a language is the best way to exercise your brain. It also significantly improves your memory and keeps you mentally engaged.
EFL classes provide an important social network and are great for making new friends and socialising in a fun and comfortable way.
Using our IWBs and computers, we can also help you practise basic IT skills so you feel more comfortable sending e-mails to your friends and family abroad, sharing pictures with your new foreign friends, and even just browsing the Internet.
And, finally…. Simply because it's FUN!!!
Prices 2016
The prices below include all the expenses per week per person, including course resource fee, regisration fee, and transfer to and from the airport (provided that all of the group members arrive together).
Belview (single)
Belview (sharing double)
Belview (sharing triple)
Homestay (single)
HALF BOARD
Homestay (sharing)
HALF BOARD
Standard (groups of 10+ students)
€910
€670
€620
€720
€620
Small (groups of 5-10 students)
€1,170
€930
€880
€980
€880
Exclusive (groups of <5 students)
€1,590
€1,360
€1,310
€1,400
€1,310
Sample Programme
Below is a sample one-week programme. Please note that the content of the excursion programme may change depending on weather conditions, and can also be negotiated on demand. We could offer your group more trekking activities should you be looking for a more active holiday or, on the contrary, you may be interested in cultural tours, or social hangouts and gourmet tours. Once you have booked the package we will get in touch with you or your agent to discuss the content of the programme, making sure that we make your stay with us as pleasant as it can be.
MORNING
AFTERNOON
EVENING
Monday

Late morning.

Meet at the school at 12:30 for soft drinks and pastizzi.

Orientation walk and information about the course.

Placement test.

Discuss the course content and activities.

Lessons 14:00 – 17:30

Night Grand Harbour and Spectacular Fountain Tour (download)

Tuesday

Valletta Capital City Tour (download)

Lessons 14:00 – 17:30
Free
Wednesday

3 Cities and Temple Tour (download)

Lessons 14:00 – 17:30
Free
Thursday

Mdina Silent City Tour (download)

Lessons 14:00 – 17:30
Free
Friday

Blue Grotto and Marsaxlokk (download)

Lessons 14:00 – 17:30

Wine Tasting (download)