ŻiguŻajg is an annual International Arts Festival for children and young adults, which has as its vision that of positioning the creative arts for children and young people at the core of Malta's creative ecology.
The festival aims to do this by showcasing professional arts specifically designed for children and young people in various disciplines at a high level of excellence. It does this through the development of a national repertoire of works for children and young people and by creating an accessible and inclusive artistic programme which increases cultural participation.
ŻiguŻajg Arts Festival is organised by the St James Cavalier Centre for Creativity, a catalyst for the contemporary art scene in Malta, which aims to become a hub were people of all ages and from all walks of life can join in the enriching act of creativity. Through ŻiguŻajg Arts Festival and other events, the Centre fosters aesthetic and cultural awareness amongst the younger generation.
Please contact the ŻiguŻajg team on ziguzajg.admin@sjcav.org for more information.
Various performances will be taking place at St James Cavalier, The Manoel Theatre, MITP, Pjazza Teatru Rjal, Auberge de Castille, Pjazza la Valletta and the Phoenicia Hotel Ballroom. Kindly consult the official programme of events (HERE) for full details.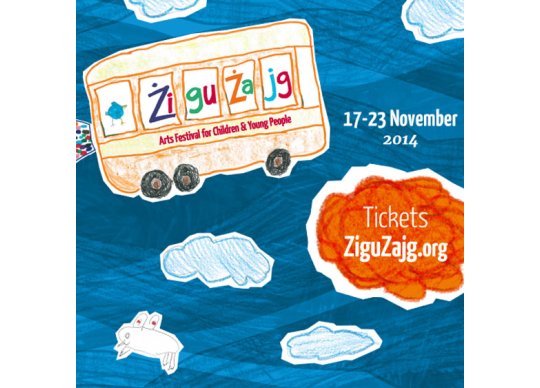 Source:
What's on Malta
17/11/2014
http://www.whatson.com.mt/