For the first time in Malta, The International Martino presents Circus on Ice, held in Marsa.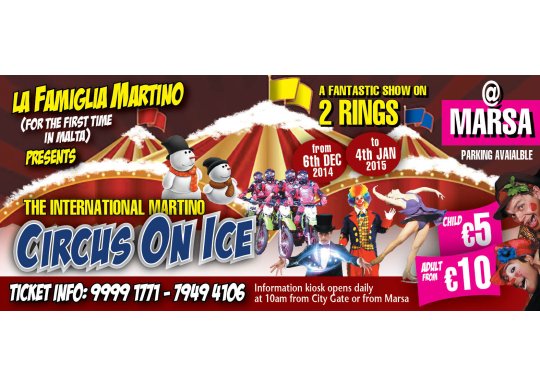 Dazzling ice dancers, trapeze artists, beautiful contortionists, crazy comedy, magicians and bouncing buffoons promise a thrilling breathtaking experience filled with music, colour, incredible costumes and unbelievable acrobatics, leaving the audience sat on the edge of their seats.
There will be two fantastic shows on two rings: A traditional ring and a real ice ring,
Information kiosks are open daily at 10am at City Gate or from Marsa.
Visit our website for a full schedule.
Parking is available as is central heating.
Dates: 6th December 2014 to 4th January 2015
Tickets:
Price – Children €5 / Adult from €10
Call – 9999 1771 or 7949 4106
Email: circusicemalta@gmail.com
Website: www.circusicemalta.com
Facebook: www.facebook.com/circusicemalta
Source: http://www.whatson.com.mt