Career opportunity at IH Malta
Situations Vacant
International House Malta is affiliated with the International House World Organisation, one of the largest and oldest groups of language schools in the world. Founded in 1953, we are a global network of over 150 affiliated private language schools in 52 countries, spanning every continent.
The following positions have now became vacant within our school in Malta:
ADOS – Minimum requirements are: a 1st Degree in English and / or Delta and / or an equivalent Level 7 English language qualification plus an ELT teacher's permit; as well as meeting all other conditions as set out by the ELT Council pertinent to such a managerial position.
Experience in school management coupled with strong leadership, excellent oral and written communication skills as well as a flair for business development are all pre-requisites for the job.
A working knowledge of Russian and other Eastern European languages would score heavily in favour of the applicant.
Sales Support Executive – we are seeking an individual to help us continue with the growth of our Far Eastern markets. Very good oral as well as written English skills are important, however, an intimate knowledge of Eastern cultures as well as the ability to communicate in at least one of the Korean, Japanese or Chinese languages is a must. This post is ideal for a person whose mother tongue is one of the three mentioned above and has roots in Malta.
An attractive remuneration package will be offered to the right applicants who are requested to send an email with a detailed CV directly to the CEO of Business Language Connection Ltd., operators of International House Malta, on rs@ihmalta.com.
All applications need to be received by not later than the 25th July 2017 and will be treated with the strictest confidence.
---
Also: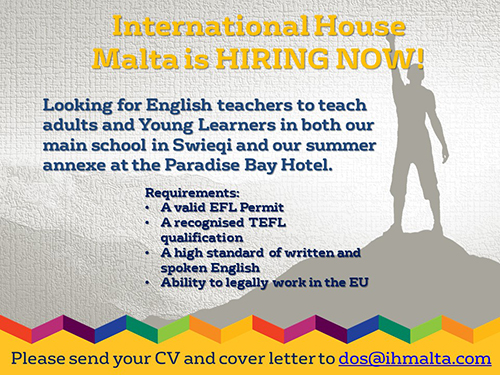 Contact us: